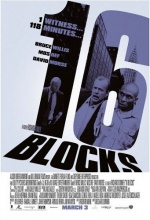 In this urban action thriller New York police dept. detective Jack Mosley (Bruce Willis), is a hard-drinking cop, assigned to deliver a small-time convict to the court sixteen blocks far from the jail in less than 2 hours. The task seems to be simple, but there are some powerful people who don't want this prisoner to be delivered to the court house. Bruce Willis's Mosley must choose between loyalty to his colleagues and protecting the witness, and never has such a short distance seemed so long...
Tagline
- 1 Witness... 118 Minutes...
For a New York cop and his witness, the distance between life and death just got very short.
User Reviews of 16 Blocks
Movie Info
Year:

IMDB Rating:

6.7

IMDB Votes:

16423

Countries:

Genres:

Tags:

Chase, Number in title, Subway, Twist in the end, Shot in the leg, Shot to death, Shot in the back, Title spoken by character, Bus, Brother sister relationship



Domestic:

$36,895,141 (56.2%)

+ Foreign:

$28,769,580 (43.8%)

= Worldwide:

$65,664,721

Opening
Weekend:

$11,855,260 (2,706 theaters, $4,381 average) % of Total Gross: 32.1%

Release:

2,706 theaters