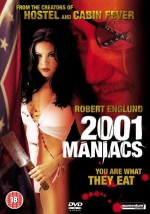 Three college slackers, Anderson Lee, Cory Jones and Nelson Elliot, plan a good time away from their college by heading out to Daytona Beach for Spring Break. But along they way, they get detoured into the small, off-the-map, town of Pleasant Valley, Georgia, where they, along with three drifters, Joey, Kat and Ricky, and biker Malcolm and his girlfriend Leah, are welcomed as guests of honor by the cheerful but sinister-looking Mayor Buckman for the annual Pleasant Valley Guts and Glory Festival. Unknown to the eight unsuspecting Northerners, Mayor Buckman and the residents have more in store where they plan to use the festival as a blood ritual by separating the guests and killing them off one-by-one in ultra-gory fashion.
Tagline
- The south will rise again!
You are what THEY eat!
User Reviews of 2001 Maniacs
Movie Info
Year:

IMDB Rating:

5.4

IMDB Votes:

1666

Countries:

Genres:

Tags: