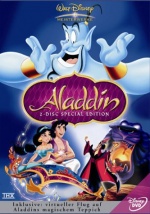 This sparkling Eastern story tells about the adventures of Aladdin, who is a poor but kind boy who falls in love with Princess Jasmine. He will try to win over the heart of the beautiful Princess, simultaneously being obliged to find the Magic Lamp in the depths of the dangerous cave. He should also stop Jafar, who is a cruel vizier craving for the Lamp and for Jasmine's love.
Tagline
- A diamond in the Rough.
Imagine if you had three wishes, three hopes, three dreams and they all could come true.
- It is not what is outside, but what is inside that counts.
Wish granted! (DVD re-release)