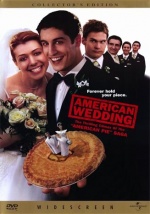 Jim proposes to Michelle and she accepts. Now their families are looking forward to it as is Jim's friends, Kevin and Finch. They do their best to keep Stifler from knowing but he does and all he sees is the bachelor party that goes with it. However Jim is more concerned about whether or not Michelle's parents will like him and he is also worried that he can learn how to dance before the wedding.
Tagline
- "Jim's finally taking her up the aisle"
Forever hold your piece.
- This time they're going all the way.
User Reviews of American Wedding
Movie Info
Year:

IMDB Rating:

6.2

IMDB Votes:

24923

Countries:

Genres:

Tags:

Sequel, Marriage proposal, Erection, Love, Public nudity, Sex, Beach, Crude humor, Father son relationship, Friendship



Domestic:

$104,565,114 (45.2%)

+ Foreign:

$126,884,089 (54.8%)

= Worldwide:

$231,449,203

Opening
Weekend:

$33,369,440 (3,172 theaters, $10,520 average) % of Total Gross: 31.9%

Release:

3,175 theaters