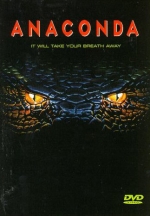 A "National Geographic" film crew, headed by director Terri Flores (Jennifer Lopez) and anthropologist Steve Cale (Eric Stoltz), venture into the heart of the Amazon Jungle to shoot a documentary about the elusive People of the Mist. Along the way, they rescue a guy named Paul Sarone (Jon Voight) from a stranded boat and take him on board. They make a grave mistake trusting Sarone when he offers to help in their search for the long-lost tribe. He turns out to be a snake hunter who is obsessed with capturing a gigantic Green Anaconda. When the crew encounter a 40-foot snake capable of swallowing its prey whole, their journey turns into a brutal struggle for survival...
Tagline
- When You Can't Breathe You Can't Scream
It will take your breath away
- You can't scream if you can't breathe.
Movie Info
Year:

IMDB Rating:

4.1

IMDB Votes:

18529

Countries:

Genres:

Tags:

Explosion, River, Dart, Boat, Jungle, Snake, Monster, Suspense, Giant snake, Animal attack



Domestic:

$65,885,767 (48.1%)

+ Foreign:

$71,000,000 (51.9%)

= Worldwide:

$136,885,767

Opening
Weekend:

$16,620,887 (2,456 theaters, $6,767 average) % of Total Gross: 25.2%

Release:

2,456 theaters