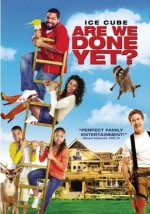 Newlyweds Nick (Ice Cube) and Suzanne (Long) decide to move to the suburbs to provide a better life for their two kids. But their idea of a dream home is disturbed by a contractor (McGinley) with a bizarre approach to business.
Tagline
- It was the perfect house... Until he decided to fix it.
First comes love. Then comes marriage. Then comes suffering.
- New house. New family. What could possibly go wrong?
User Reviews of Are We Done Yet?
Movie Info
Year:

IMDB Rating:

2.7

IMDB Votes:

4684

Countries:

Genres:

Tags:

Sequel, Remake, Brother sister relationship, Father son relationship, Tattoo, Dog, Slapstick, Bathroom scene, Marriage, Mother son relationship



Domestic:

$49,662,533 (85.1%)

+ Foreign:

$8,725,535 (14.9%)

= Worldwide:

$58,388,068

Opening
Weekend:

$14,262,724 (2,877 theaters, $4,957 average) % of Total Gross: 28.7%

Release:

2,944 theaters