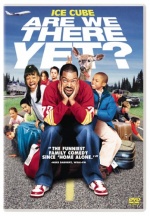 Nick, a playboy bachelor, gets into intrigue with an attractive divorcee, Suzanne. She has two kids - seven-year-old Kevin and eleven-year-old Lindsey. When Suzanne's work keeps her in Vancouver for the holiday, Nick offers to bring her kids from Portland, Oregon to reunite with their mom. But Kevin and Lindsey never liked mom's admirers... Ice Cube appears as both star and producer for this movie.
Tagline
- 24 hours. 350 miles. His girlfriend's kids. What could possibly go wrong?
Coming soon... by plane, by train, by car.
- To win over their mother, he's driving them across country. What could possibly go wrong?
User Reviews of Are We There Yet?
Movie Info
Year:

IMDB Rating:

4.2

IMDB Votes:

4526

Countries:

Genres:

Tags:

Product placement, Single mother, Vomit, Violence, Mud, African american, Singing, Road trip, Children, Cruelty



Domestic:

$82,674,398 (84.4%)

+ Foreign:

$15,244,265 (15.6%)

= Worldwide:

$97,918,663

Opening
Weekend:

$18,575,214 (2,709 theaters, $6,856 average) % of Total Gross: 22.5%

Release:

2,810 theaters