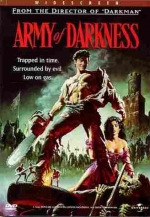 In the third film of "The Evil Dead" series, our gun-toting, chainsaw-handed hero, Ash (Bruce Campbell), has been transported to the 13th century where he has been prophesied as the one who will find the Necronomicon, the Book of the Dead, and deliver the people from the terrors of the Deadites, who quest for the book, too. But he is mistaken as a spy from a rival kingdom and forced to fight two Deadites before the people find out what he is here for. He also falls for a woman named Sheila (Embeth Davidtz) before he searches for the book. But after finding it, he says the wrong words that will allow the wisemen to use the book to send him back and stop the Deadites and accidentally awakens the Army of the Dead, led by his clone, Evil Ash. Now, Ash must use his 20th century wits and skills to beat Evil Ash and his army of skeletons.
Tagline
- How can you destroy an army that's already dead?
Sound the trumpets, Raise the drawbridge, and drop the Oldsmobile
- They move. They breathe. They suck.
Trapped in time. Surrounded by evil. Low on gas
- 1 Man, 1 Million dead, The odds are just about even.
In an age of darkness. At a time of evil. When the world needed a hero. What it got was him.
User Reviews of Army of Darkness
Movie Info
Year:

IMDB Rating:

7.5

IMDB Votes:

37549

Countries:

Genres:

Tags: