Artificial Intelligence: AI
Movie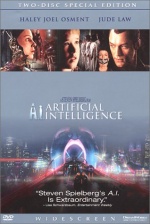 Welcome to the Far Future when Man has made a technological breakthrough. Now, with the help of artificial intelligence, the human race hopes to cope with the polar cap melting which causes the raise of the ocean waters and coastal flooding. Moreover, Cybertronics Manufacturing has created companion robots to replace friends, lovers or kids. One of these androids is David (Haley Joel Osment), a 12-year-old boy programmed to love and adopted by a Cybertronics employee, Henry Swinton (Sam Robards), and his wife, Monica (Frances O'Connor). David
Tagline
- David is 11 years old. He weighs 60 pounds. He is 4 feet, 6 inches tall. He has brown hair. His love is real. But he is not.
Do not speak the seven-word activation code unless you mean it.
- Journey To A World Where Robots Dream And Desire
- This summer, discover the next step in evolution.
User Reviews of Artificial Intelligence: AI
Movie Info
Year:

IMDB Rating:

6.8

IMDB Votes:

53771

Countries:

Genres:

Tags: