Austin Powers: The Spy Who Shagged Me
Movie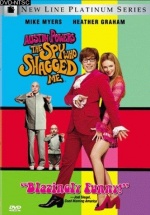 Dr. Evil returns from space just as British spy Austin Powers learns on his honeymoon that his wife is a fembot in Evil's control. Back on the singles scene, Powers discovers he's impotent because Evil has used a time machine to return to the late 60s and steal his libido. British intelligence also has a time portal, so Powers goes back to 1969 to recapture his mojo and, teaming with agent Felicity Shagwell, to stop another Evil plot to take over the world, this time with a "laser" beamed from the moon. Subplots involve Evil's son Scott's discovery of who his mother is, Evil's affection for a clone one-eighth his size, and the machinations of an obese Scot named Fat Bastard.
Tagline
- "I'm Coming Again, Baby!" [Australia]
Double-O Behave!
- First, he fought for the Crown. Now he's fighting for the Family Jewels.
He's back, he's even bigger and he's up for it!
If you see only one movie this summer, see Star Wars. But if you see two movies this summer, see Austin Powers: The Spy Who Shagged Me
- The BRITISH Empire Strikes Back!
- You Were Expecting Someone Else?
User Reviews of Austin Powers: The Spy Who Shagged Me
Movie Info
Year:

IMDB Rating:

6.5

IMDB Votes:

58636

Countries:

Genres:

Tags:

Blockbuster, Gadget car, Product placement, Sequel, Spy, Character name in title, Gun, Spit in the face, Father son relationship, Femme fatale



Domestic:

$206,040,086 (66.0%)

+ Foreign:

$105,976,772 (34.0%)

= Worldwide:

$312,016,858

Opening
Weekend:

$54,917,604 (3,312 theaters, $16,581 average) % of Total Gross: 26.7%

Release:

3,314 theaters