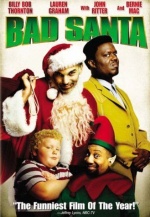 Willie (Billy Bob Thornton), a lonely drunkard, and his midget friend Marcus (Tony Cox) work the Holiday seasons as Santa Claus and his elf in department stores. However, their intent is to rob malls so as to hit the jackpot. When Christmas shoppers, satisfied with their purchaces, leave the mall, Santa and his Elf crack the store safe and make off with their own holiday presents. But in Phoenix their annual robbery gets endangered by a pesky store manager, a sharp mall detective, and a precocious 8-year-old boy who believes that Willie—as intoxicated and felonious as he seems to be—is the real Santa he's been looking for. The innocent, ingenuous little boy evokes inner change in Santa.
Tagline
- Get Naughty this Holiday Season.
He doesn't care if you're naughty or nice.
- He's very naughty . . . and not very nice. [DVD]
User Reviews of Bad Santa
Movie Info
Year:

IMDB Rating:

7.2

IMDB Votes:

22700

Countries:

Genres:

Tags:

Murder, Safecracker, Boxing, Con artist, Gun, Robbery, Twist in the end, Betrayal, Police, Hit by car



Domestic:

$60,060,328 (78.5%)

+ Foreign:

$16,428,561 (21.5%)

= Worldwide:

$76,488,889

Opening
Weekend:

$12,292,952 (2,005 theaters, $6,131 average) % of Total Gross: 20.5%

Release:

2,540 theaters