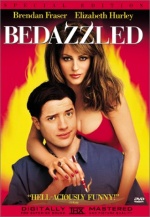 The Devil (Elizabeth Hurley) has never been so seductive. This time, he assumes the aspect of a gorgeous woman and forces a man to do reckless things. A hapless computer programmer, Elliot Richards (Brendan Fraser), is a perfect person to make a deal with. The perfidious Devil makes a tempting offer to Elliot: she promises to fulfill seven wishes in exchange for his soul. However, there is no such thing as a free lunch. It's no wonder that Elliot's life is turned into a hell when he sells his soul to the Devil. He can't enjoy the bargain because each time he makes a wish, the results are regrettable...
Tagline
- Catch Hell.
Meet the devil. No one's ever been able to resist her. Until now.
- Meet the Devil. She's giving Elliott seven wishes. But not a chance in Hell.
The she devil is giving Elliot seven wishes but not a chance in hell.
- You've got seven wishes. Choose carefully.
User Reviews of Bedazzled
Movie Info
Year:

IMDB Rating:

5.8

IMDB Votes:

13227

Countries:

Genres:

Tags:

Automobile, Helicopter, Product placement, Remake, Dream, San francisco california, Beach, True love, Black comedy, Cocaine



Domestic:

$37,886,980 (41.9%)

+ Foreign:

$52,496,228 (58.1%)

= Worldwide:

$90,383,208

Opening
Weekend:

$13,106,526 (2,568 theaters, $5,103 average) % of Total Gross: 34.6%

Release:

2,571 theaters