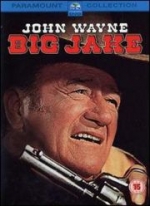 Big Jake McCandles is on the trail on bandits in this action drama that stretches from Texas to Mexico. It's 1909, and the Old West is giving way to modern times. When the outlaw gang led bu vicious John Fain raids Jake's ranch and kidnaps his 8-year-old grandson, Jake's wife, whom he hasn't seen in 18 years, sends for her husband to rescue the boy. While the law gives chase in rickety automobiles, Jake saddles up with an Indian scout, a faithful dog, and a box of money. But paying ransom isn't Jake's idea of good old frontier justice.
Tagline
- John Wayne and Richard Boone star in a thrilling chase across the changing frontier
Big Jake... A legend of a man. A man who fought his way through hell to save a grandson he had never seen!
- They wanted gold. They gave them lead instead!
Movie Info
Year:

IMDB Rating:

6.8

IMDB Votes:

2312

Countries:

Genres:

Tags: