Bill & Ted's Excellent Adventure
Movie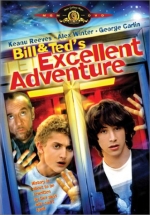 When best friends Bill S. Preston and Ted "Theodore" Logan are in danger of being seperated and having their band, Wyld Stalyns broken up because they're failing history, a time traveler from the future gives them a telephone booth so they can travel through time and ace their history report.
Tagline
- Brace yourself amigos for a most triumphant video! (UK VHS Box)
Party on, dudes!
- Time flies when you're having fun.
History is about to be rewritten by two guys who can't spell...
- The funniest comedy in the history of history.
User Reviews of Bill & Ted's Excellent Adventure
Movie Info
Year:

IMDB Rating:

6.7

IMDB Votes:

22132

Countries:

Genres:

Tags: