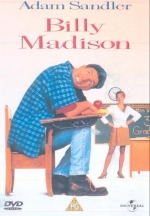 Dim-witted, overgrown kid Billy Madison (Adam Sandler) whiles away his time poolside, guzzling beer with his stupid buddies, Jack (Mark Beltzman) and Frank (Norm Macdonald), ogling sultry girls in nudie magazines and playing filthy pranks. The wealthy Brian Madison (Darren McGavin) informs his slacker son that he plans to pass the hotel business on to vice president Eric Gordon (Bradley Whitford). Billy is forced to return to school and pass all 12 grades within the course of twenty-four weeks in order to prove that he is competent to run the company.
Tagline
- There's a new name for dumb.
Billy Madison's going back to school... Way back.
- To inherit his family's fortune, Billy is going back to school... Way back.
A comedy about an overwhelming underachiever.
User Reviews of Billy Madison
Movie Info
Year:

IMDB Rating:

6.1

IMDB Votes:

22902

Countries:

Genres:

Tags:

Character name in title, Person on fire, Father son relationship, Jet ski, Penguin, Prank, Teacher, Dog, Swimming pool, Party



Domestic:

$25,588,734 (96.6%)

+ Foreign:

$900,000 (3.4%)

= Worldwide:

$26,488,734

Opening
Weekend:

$6,639,080 (1,834 theaters, $3,620 average) % of Total Gross: 25.9%

Release:

1,887 theaters