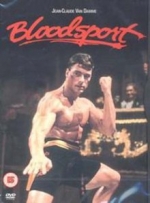 The movie follows Frank W. Dux (Jean Claude Van Damme), a soldier in the U.S. Military who is preparing for an underground, deadly dangerous martial arts tournament called Kumite. As a kid, he was adopted and trained by Senzo Tanaka (Roy Chiao), a Japanese master of art. Due to the unwearied training Frank went from a below average fighter to invincibility. Dux goes AWOL to participate in the Kumite that takes place in Hong Kong. Two army officers, Helmer (Norman Burton) and Rawlins (Forest Whitaker) are assigned to hunt down and arrest him. Despite various obstacles he comes across along the way, Dux becomes the first person from the Western Hemisphere to win the tournament and joins the Brotherhood of the Black Dragon...
Tagline
- The true story of an American ninja.
The secret contest where the world's greatest warriors fight in a battle to the death.
- Based on the real story of the Great White Dragon
User Reviews of Bloodsport
Movie Info
Year:

IMDB Rating:

6

IMDB Votes:

10843

Countries:

Genres:

Tags: