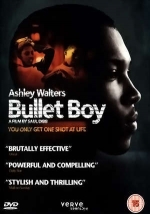 Ricky (Ashley Walters) has been released from a young offender institution where he served time for the illegal possession of a firearm. Determined to go straight, he heads home where his mother and his 12-year-old brother Curtis (Luke Fraser) are waiting for him. However, while on his way home, he and his best buddy Wisdom (Leon Black) get involved in a minor street confrontation which threatens to escalate into a violent neighborhood war. Then Ricky takes home a loaded revolver and hides it in his room which Curtis finds...
Tagline
- You only get one shot at life.
Pray... They may be your last words...
User Reviews of Bullet Boy