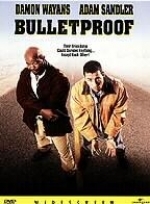 A cheerful, trustful and dare-devil criminal named Archie Moses makes friends with Rock Keats (Damon Wayans), unaware of his being an undercover cop, actually named Jack Carter, assigned to catch the ruthless drug lord Frank Colton (James Caan). Keats wins not only Archie's confidence but also his affection as he comes to his rescue in a fight. Archie graciously invites him to join Colton's gang and even get him involved in a multimillion-dollar drug smuggling operation. During the police raid, Carter is accidentally shot in the head by his best buddy who flees to Arizona. After recovering, Keats returns to his duties only to discover that Archie is arrested and agrees to turn state's evidence against the villainous drug king pin. But there is only one condition: he wants to be escorted to California by his former friend. Carter has nothing to do but to agree. Once friends and now bitter enemies, Moses and Carter, however, join forces when they find themselves pursued by violent assassins hired by the vengeful Colton.
Tagline
- Their friendship could survive anything... except each other!
Tough cop. Hostile witness.
User Reviews of Bulletproof
Movie Info
Year:

IMDB Rating:

5.3

IMDB Votes:

6967

Countries:

Genres:

Tags:

Domestic:

$21,576,954 (95.4%)

+ Foreign:

$1,035,000 (4.6%)

= Worldwide:

$22,611,954

Opening
Weekend:

$6,014,400 (2,240 theaters, $2,685 average) % of Total Gross: 27.9%

Release:

2,242 theaters