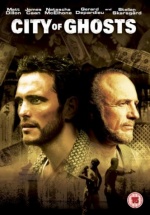 Jimmy and Marvin work for the insurance company which is a bogus group when the act of God casts the avalanche of claims onto their heads. Marvin flees for Cambodia trying to regain his cash, Jimmy attempts to come to terms with the chaotic events then gets off to Asia in search of the companion, against his will. Jimmy offers a new venture, to raise a large casino in Cambodia, but Asian reality differs much from the usual environment the guys get accustomed to. The violence is a common method to solve the problems here and it becomes clear that this world lives by its own rules...
Tagline
- When fear is the currency, what is the price of hope.
where you go when you can't turn back.
User Reviews of City of Ghosts
Movie Info
Year:

IMDB Rating:

5.7

IMDB Votes:

1628

Countries:

Genres:

Tags: