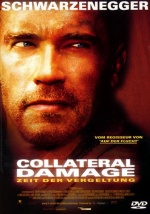 The family of Gordy Brewer perished when the US consulate was blown by a terrorist bomb thrown at the command of Claudio "The Wolf" Perrini (Cliff Curtis), a Colombian rebel. These deaths are simply a collateral damage for an international criminal who is unattainable for the police and justice, and Brewer, an ordinary LA fireman, decides to take revenge in his own hands. He goes to Columbia and tries to find Perrini along with criminal's ex Selena (Francesca Neri). Brewer will do anything to settle accounts with the terrorists.
Tagline
- Nothing is more dangerous than a man with nothing to lose
The Act Itself Wasn't Personal...HIS VENGEANCE WILL BE [UK tag-line]
- What Would You Do If You Lost Everything?
User Reviews of Collateral Damage
Movie Info
Year:

IMDB Rating:

5.1

IMDB Votes:

13294

Countries:

Genres:

Tags:

Helicopter, Motorcycle, Murder, Bomb, Elevator shaft, Explosion, Los angeles california, Prison, Twist in the end, Neck breaking scene



Domestic:

$40,077,257 (51.1%)

+ Foreign:

$38,305,176 (48.9%)

= Worldwide:

$78,382,433

Opening
Weekend:

$15,058,432 (2,824 theaters, $5,332 average) % of Total Gross: 37.6%

Release:

2,824 theaters