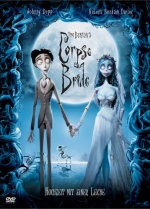 Late at night Victor returns to his home going to marry his fiancee Victoria. He has a trouble remembering the upcoming marriage' vows and trying to have a practice at a forest glade. He puts the ring on the twig which turns out to be a finger of the Corpse Bride, a girl, killed by her groom some time ago. Her name is Emily, from this very time she insists on being Victor's legal wife despite the fact he already has the bride. Victor soon finds himself surrounded by the Land of the Dead, the place which is quite easy to bear if only you got used to see skeletons, eyeballs and the lost heads far and wide. Characters of this animated story bear strong resemblance to personas of Tim Burton's "Nightmare before Christmas" at some points. Animated Victor van Dort is voiced by inimitable Johnny Depp and his dead wife wannabe speaks with the voice of Helena Bonham Carter.
Tagline
- Rising to the occasion
There's been a grave misunderstanding.
User Reviews of Corpse Bride
Movie Info
Year:

IMDB Rating:

7.4

IMDB Votes:

10978

Countries:

Genres:

Tags: