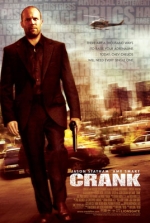 For freelance hitman Chev Chelios (Jason Statham) the day begins with bad news. He receives a message from a rival thug, Ricky Verona (Jose Cantillo), who reveals that Chev has been injected in his sleep with rare poison from China and he is only an hour away from perishing. Chev learns from his friend, Doc Miles (Dwight Yoakam), that he must keep his adrenaline in an upper level to stay alive before he can find an antidote. It's generally known that fear, sex and rage make your blood boil and your adrenaline flow. Trying to create as much tension as possible, Chev sets out to wreak his deadly vengeance on those who have betrayed him, and prevent his girlfriend Eve (Amy Smart) from falling into the mob's clutches.
Tagline
- If his heart stops pumping adrenalin... It will be the day Chev Chelios dies
"My name is Chev Chelios, and today is the day I die"
- Was uns nicht umbringt, macht uns stark. (German Translation: What does not kill us, makes us stronger.)
There are a thousand ways to raise your adrenaline. Today, Chev Chelios will need every single one.
- Poison in his veins. Vengeance in his heart.
Movie Info
Year:

IMDB Rating:

7.1

IMDB Votes:

38869

Countries:

Genres:

Tags:

Helicopter, Motorcycle, Motorcycle stunt, Product placement, Security camera, Blood, Blood splatter, Death, Female nudity, Neck breaking scene



Domestic:

$27,838,408 (62.2%)

+ Foreign:

$16,938,913 (37.8%)

= Worldwide:

$44,777,321

Opening
Weekend:

$10,457,367 (2,515 theaters, $4,157 average) % of Total Gross: 37.6%

Release:

2,515 theaters