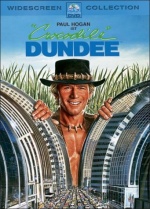 New York reporter Sue travels to Australia to meet and interview Michael J Crocodile Dundee, a man who runs a safari business and has just survived an attack by a crocodile. After spending a few days touring the safari park, Sue invites Mick to come back with her to visit New York. How would the clash of cultures and different life style affect the Aussie bushman? How do things turn out when Sue falls for his charms?
Tagline
- From the Australian Outback to New York City, Michael J. "Crocodile" Dundee is about to survive in a different kind of Jungle.
He's survived the most hostile and primitive land known to man. Now all he's got to do is make it through a week in New York.
- The Wizard of Auz hits The Big Apple!
There's a little of him in all of us.
User Reviews of Crocodile Dundee
Movie Info
Year:

IMDB Rating:

6.4

IMDB Votes:

16804

Countries:

Genres:

Tags:

Blockbuster, Character name in title, Subway, New york, Bar, Party, Boat, Knife, World trade center new york, Drugs



Domestic:

$174,803,506 (53.3%)

+ Foreign:

$153,400,000 (46.7%)

= Worldwide:

$328,203,506

Opening
Weekend:

$8,038,855 (879 theaters, $9,145 average) % of Total Gross: 4.6%

Release:

1,495 theaters