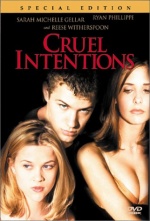 Stepsiblings Kathryn Merteuil (Sarah Michelle Gellar) and Sebastian Valmont (Ryan Phillippe) are wealthy prep school students and unscrupulous, manipulative socialites who have only a few things on their minds: how to satisfy their vicious desires, who to take revenge on and who else to choose as a sexual and emotional toy. When the lady-killing self-confident Sebastian and the cynical seductive Kathryn playing fast and loose with their peers' affections get bored with stale intrigue plots and banal declarations of love, they devise an ingenious heinous plan. Sebastian's challenge is to seduce the new headmaster's daughter, the virginal Annette Hargrove (Reese Witherspoon). The calculating Kathryn makes a wager. The stakes are high: if "Casanova" fails, she will get his vintage Jaguar car; if he succeeds, he will get one night of unbridled passion with Kathryne he lasts for since their parents married.
Tagline
- Are you in, or are you out?
Everyone does it, no one talks about it
- In the game of seduction and betrayal, how far will you go?
In the game of seduction, There is only one rule: Never fall in love
- They're old enough to know better, but too young to care.
What you can't have, you can't resist.
User Reviews of Cruel Intentions
Movie Info
Year:

IMDB Rating:

6.6

IMDB Votes:

39996

Countries:

Genres:

Tags:

Automobile, Twist in the end, Betrayal, Female nudity, New york, Nudity, Revenge, Bet, Lesbian kiss, Love



Domestic:

$38,328,567 (50.5%)

+ Foreign:

$37,573,641 (49.5%)

= Worldwide:

$75,902,208

Opening
Weekend:

$13,020,565 (2,312 theaters, $5,631 average) % of Total Gross: 34.0%

Release:

2,312 theaters