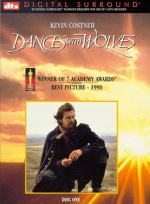 Lt. John Dunbar is dubbed a hero after he accidentally leads Union troops to a victory during the Civil War. He requests a position on the western frontier, but finds it deserted. He soon finds out he is not alone, but meets a wolf he dubs "Two-socks" and a curious Indian tribe. Dunbar quickly makes friends with the tribe, and discovers a white woman who was raised by the Indians. He gradually earns the respect of these native people, and sheds his white-man's ways.
Tagline
- Inside everyone is a frontier waiting to be discovered.
Lt. John Dunbar is about to discover the frontier...within himself.
- The journey begins this November. Discover it for yourself.
User Reviews of Dances with Wolves
Movie Info
Year:

IMDB Rating:

7.8

IMDB Votes:

32736

Countries:

Genres:

Tags: