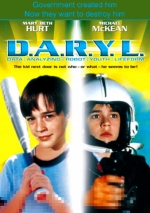 A young boy is found wandering without any memory of who he is. A family takes him in and begin to look for clues to help him find his way home. In the meantime, they notice that the boy seems to have certain special abilities, not usually found in kids his age, or even fully-grown adults.
Tagline
- He can fly a jet, race a car and outsmart a computer. The government created him and now they want him destroyed.
He can't be kept a secret any longer...
- The Government created him. Now, they want to destroy him.
Becoming human was not part of the plan. Now they want to terminate him.
- The kid next door is not who - or what - he seems to be.
Data Analyzing Robot Youth Lifeform
User Reviews of D.A.R.Y.L.