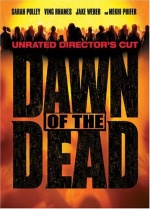 A legendary zombie epic of George Romero has its remake in this impressive thriller which follows a small group of survivors that tries to find shelter from bloodthirsty hordes of decaying zombies in a massive shopping mall. Some plague invaded the Earth, and people, who died from it, aren't strictly dead, but they are terrible walking corpses craving for a living flesh. World is drawn into the despairing chaos when few survivors try to save themselves from the hordes of the dire hungry zombies. How to distinguish a live human from a freshman zombie when a former friend may become the deadly enemy? Will not he stab his teeth in your neck in next moment of a blind, bloodthirsty rage?
Tagline
- 36 billion people have died since the reign of humanity. For the new Dawn, there's a reunion...
How do you kill what's already dead?
- When the undead rise, civilization will fall.
When there's no more room in hell, the dead will walk the earth.
User Reviews of Dawn of the Dead
Movie Info
Year:

IMDB Rating:

7.3

IMDB Votes:

33829

Countries:

Genres:

Tags:

Helicopter, Explosion, Gun, Remake, Twist in the end, Blood, Blood splatter, Death, Disturbing, Female nudity



Domestic:

$59,020,957 (57.7%)

+ Foreign:

$43,335,424 (42.3%)

= Worldwide:

$102,356,381

Opening
Weekend:

$26,722,575 (2,745 theaters, $9,735 average) % of Total Gross: 45.3%

Release:

2,748 theaters