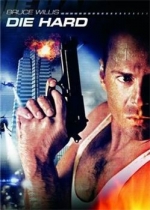 John McClane (Willis) is a cop from New York City who is on his way to Los Angeles to see his kids and his wife Holly (Bedelia), who moved to LA because of a job at the Nakatomi Corporation. When he arrives at Nakatomi Plaza, he meets Holly's boss Joe Takagi and her co-worker Harry Ellis. He and Holly go into a private bathroom and get into an argument. When Holly leaves to give a speech, thirteen armed terrorists lead by Hans Gruber (Rickman) seize control of the building and take the occupants of the 30th floor, who are the only ones left in the building, hostage. Luckily, they missed John since he was in the bathroom. He sneaks out and witnesses Gruber kill Takagi. He goes to floor 32 and pulls the fire alarm, but the terrorists cancel the alarm and send someone up to kill John. However, he kills the terrorist and steals his machine gun. Now he has to kill the rest of the terrorists and save the hostages before the terrorists get their way.
Tagline
- 40 Storeys High - with Suspense, Excitement and Adventure on every level!
40 Stories Of Sheer Adventure!
- He's the only chance anyone has got.
High above the city of L.A. a team of terrorists has seized a building, taken hostages and declared war. One man has managed to escape. An off-duty cop hiding somewhere inside. He's alone, tired... and the only chance anyone has got.
- It will blow you through the back wall of the theater!
It's Christmas Eve In L.A. And The Party Action's About To Explode... On The Fortieth Floor!
- Suspense, Excitement, Adventure, On every level!
Twelve terrorists. One cop. The odds are against John McClane... That's just the way he likes it.
Movie Info
Year:

IMDB Rating:

8.1

IMDB Votes:

89544

Countries:

Genres:

Tags: