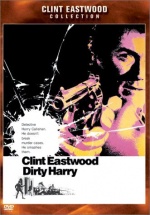 San Francisco is being terrorized by a sniper who calls himself Scorpio, and Scorpio kills Diana Davidson as she swims in a pool. Inspector Harry Callahan is known as Dirty Harry. Dirty Harry is a widower, his wife having been killed in an auto accident. He lives to make the existence of his superiors a miserable one, and he refuses to play by the rules. Dirty Harry doesn't wear Kevlar and he doesn't carry an arsenal of automatic weapons. All he needs is his .44 magnum. Six shots doesn't seem like much, but it's enough when you rarely miss and a single shot can knock you into the next millennium. Dirty Harry handles the search for Scorpio, and ends up stopping three men from robbing a bank. Known for bringing bad luck to his partners, Dirty Harry reluctantly accepts new partner Chico Gonzalez on the orders of Lieutenant Al Bressler. Dirty Harry even gets chewed out by the mayor. Scorpio promises to kill a black person and a priest if the city doesn't give him $100,000. Nearly caught, Scorpio doubles the ransom, kidnaps a 14-year-old girl, and buries her alive, giving the police a limited time to cough up the money before she suffocates. Dirty Harry follows Scorpio's instructions for the delivery, which results in Chico getting wounded. Dirty Harry tracks Scorpio to Kezar Stadium, the home of the San Francisco 49ers. Scorpio is running across the football field, and Dirty Harry calmly takes aim and nails him in the leg at the 50-yard line. The shot lifts him up and flips him over. Dirty Harry tortures Scorpio into revealing the girl's hiding place. She's found dead and Scorpio is released due to Dirty Harry's unorthodox procedure. Later, Scorpio takes over a school bus. And Dirty Harry is the only one who can take Scorpio down.
Tagline
- Clint Eastwood is "Dirty Harry." And boy, does he get all the dirty jobs.
Detective Harry Callahan. He doesn't break murder cases. He smashes them.
- do you feel lucky punk?
With his .44 Magnum, the most powerful handgun in the world, Dirty Harry wipes out crime to hell.
- You don't assign him to murder cases, You just turn him loose.
User Reviews of Dirty Harry
Movie Info
Year:

IMDB Rating:

7.8

IMDB Votes:

18529

Countries:

Genres:

Tags: