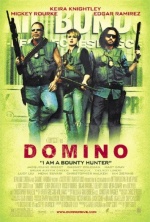 Tony Scott's witty action-drama is based upon the true story. Inimitable Keira Knightley appears as a renegade Domino Harvey, who leaves her high-society life for the bounty-hunter being to track down drug dealers and murderers for a bail bonds company in South Central L.A. She met Ed Mosbey (Mickey Rourke), an ex-con who had gone on to a successful career as a "bail recovery agent" - in short, a bounty hunter. To mother's horror, Domino not only fell in love with the job but also with her fellow adventurers, who over the years would become her family.
Tagline
- Based on a true story - sort of...
Heads You Live... Tails You Die.
Movie Info
Year:

IMDB Rating:

5.9

IMDB Votes:

14928

Countries:

Genres:

Tags:

Afghanistan, Helicopter, Murder, Bomb, Casino, Character name in title, Explosive, Gun, Las vegas nevada, Swat team



Domestic:

$10,169,202 (44.3%)

+ Foreign:

$12,775,300 (55.7%)

= Worldwide:

$22,944,502

Opening
Weekend:

$4,670,120 (2,223 theaters, $2,100 average) % of Total Gross: 45.9%

Release:

2,223 theaters