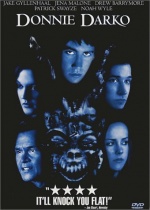 Set in Middlesex, Virginia, the story follows Donnie Darko (Jake Gyllenhaal), a 16-year-old dreamer and Christina Applegate fan who suffers from pyromania. On October 2nd, 1988, Donnie is visited by a man-sized large-toothed bunny named Frank (James Duval) and invited to go for a walk. While Donnie sleepwalks outside, a jet engine falls from the sky into his bedroom. At parting the rabbit prophesies that the "end of the world" will occur in "28 days, 6 hours, 42 minutes and 12 seconds." Before the apocalypse Frank calls on Donnie several times and draws him into a chain of vandal actions.
Tagline
- Be Afraid of the Dark
Dark. Darker. Darko.
- Life is one long insane trip. Some people just have better directions.
The cult phenomenon returns summer 2004. (director's cut re-release)
- What would you do if you knew the future?
Why are you wearing that stupid man suit?
- You can never go too far.
User Reviews of Donnie Darko