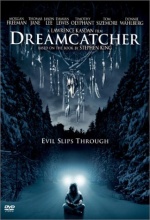 Based on the Stephen King bestseller, the chilling and sometimes funny film follows four childhood friends Jonesy (Damian Lewis), Henry (Thomas Jane), Beaver (Jason Lee), and Pete (Timothy Olyphant). As kids they rescue a mysterious stranger Duddits (Donnie Wahlberg) who endows them with uncanny powers. Years later, they reunite for a hunting trip in the Maine woods where they are overtaken by a gathering doom. Thrilling incidents begin with the discovery of a lost, contagious hunter and a frozen figure in the middle of a remote road. Meeting Colonel Curtis (Morgan Freeman), who is about to slay innocent civilians, the friends make a bold attempt to prevent a tragic disaster. In the end, they confront an unparalleled horror, with the fate of humanity.
Tagline
- A circle of friendship. A web of mystery. A pattern of fear.
Catch The Nightmare.
- Four friends hung a dreamcatcher in their cabin. It's about to catch something it cannot stop.
User Reviews of Dreamcatcher
Movie Info
Year:

IMDB Rating:

5.2

IMDB Votes:

17158

Countries:

Genres:

Tags:

Helicopter, Murder, Gun, Arson, Death, Police officer killed, Hit by car, Car accident, Friendship, Obscene finger gesture



Domestic:

$33,715,436 (44.5%)

+ Foreign:

$42,000,000 (55.5%)

= Worldwide:

$75,715,436

Opening
Weekend:

$15,027,423 (2,945 theaters, $5,102 average) % of Total Gross: 44.6%

Release:

2,945 theaters