Dude, Where's My Car?
Movie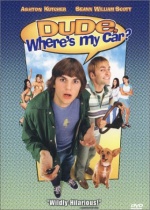 After a night of drunken revelry, two bumbling potheads, Jesse (Ashton Kutcher) and Chester (Seann William Scott), wake up with massive hangovers and a burning question: "Dude, where's my car?" To make matters worse, the anniversary presents they bought for their twin girlfriends, Wilma (Marla Sokoloff) and Wanda (Jennifer Garner), are left in their car. The dudes have nothing to do but to retrace in their mind the depraved events of the previous night in the hope of finding the missing car. The hapless guys embark on a hilarious journey and along the way, they come across a variety of bizarre characters including a transgender stripper wanting to retrieve his/her suitcase full of cash, a Cantonese -speaking Chinese tailor (Keone Young), two hard-nosed cops, a reclusive ostrich farmer (Brent Spiner), a pot-smoking dog, alien-seeking fanatics, and five sexy jumpsuit-wearing alien women looking for a mystical devise that can save or destroy the universe.
Tagline
- After a night they can't remember, comes a day they'll never forget.
User Reviews of Dude, Where's My Car?
Movie Info
Year:

IMDB Rating:

4.8

IMDB Votes:

24579

Countries:

Genres:

Tags: