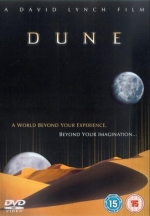 Set in a distant future where life in the universe and space travel is dependent upon a spice found only on the planet Dune, this film tracks the rise of young Paul Atreides, son of good Duke Lito, from the time of his father's betrayal and murder by a rival lord, Baron Harkonnen, to his discovery of the great secret behind the planet Dune and his own destiny, which is to free the planet and its denizens of the cruel rule of the Emperor.
Tagline
- A place beyond your dreams, A movie beyond your imagination.
A spectacular journey through the wonders of space and the mysteries of time, from the boundaries of the incredible to the borders of the impossible.
- A world beyond your experience, beyond your imagination.
A world that holds creation's greatest treasure...and greatest terrors.
- A world where the mighty, the mad, and the magical will have their final battle.
The Motion Picture Event For 1984
- You are about to enter a world where kingdoms are built on earth that moves, and skies are filled with fire.
You are about to enter a world where the unexpected, the unknown, and the unbelievable meet.
Movie Info
Year:

IMDB Rating:

6.4

IMDB Votes:

24120

Countries:

Genres:

Tags: