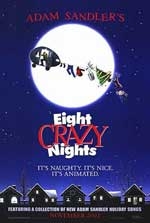 In this animated musical comedy movie, Davey Stone (Adam Sandler) is a 33-year-old grumpy boozing loser who hates himself, everyone and everything, especially the holidays. When he faces Hanukah in his New England hometown, he goes on a drunken rampage and ends up arrested. The judge (Norm Crosby) is about to throw the book at the delinquent but decides to give him one last chance at redemption and sentences him to service community. Davey must work at the community center as an assistant referee for the Junior Basketball League. He reluctantly accepts the job, though he realizes it's much better than going to the state prison for 10 years. But when he meets Whitey Duvall, a good-natured but eccentric head referee, his sentence turns into a nightmarish disaster...
Tagline
- The Ultimate Battle Between Naughty And Nice.
It's naughty. It's nice. It's animated.
User Reviews of Eight Crazy Nights
Movie Info
Year:

IMDB Rating:

4.8

IMDB Votes:

5026

Countries:

Genres:

Tags:

Chase, Product placement, Number in title, Single mother, Bus, Crude humor, Flashback sequence, Obscene finger gesture, Profanity, Restaurant



Domestic:

$23,586,598 (99.0%)

+ Foreign:

$246,533 (1.0%)

= Worldwide:

$23,833,131

Opening
Weekend:

$9,434,175 (2,503 theaters, $3,769 average) % of Total Gross: 40.0%

Release:

2,503 theaters