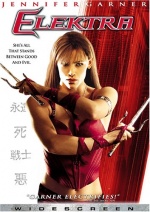 This movie presents Jennifer Garner as Elektra, a deadly and gracious female ninja. She is forced to make a responsible decision when she is sent to kill Mark Miller and his 13-year old daughter Abby. She rejects her mission and begins to fight against the hand, a powerful ninja syndicate whose members practice the dark martial art of ninjiutsu. Her fantastic abilities help her to struggle: she has a gift to see the future and her fighting skills also is not a trifle!
Tagline
- Before she can find peace she will wage war.
Born to fight. Trained to kill.
She was left for dead. Now she's back with vengeance.
- She's the last thing that stands between good and evil.
Movie Info
Year:

IMDB Rating:

5

IMDB Votes:

13860

Countries:

Genres:

Tags:

Martial arts, Character name in title, Title spoken by character, Lesbian kiss, Father daughter relationship, Flashback sequence, Tattoo, Swimming pool, Violence, Supernatural



Domestic:

$24,409,722 (43.1%)

+ Foreign:

$32,271,844 (56.9%)

= Worldwide:

$56,681,566

Opening
Weekend:

$12,804,793 (3,204 theaters, $3,996 average) % of Total Gross: 52.5%

Release:

3,204 theaters