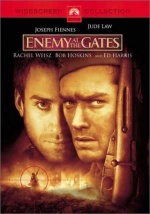 Some people are born to be heroes... The startling movie follows one of the Russian national heroes, the most famous sniper during the Second World War. It is 1942, the Stalingrad Battle: the German Army sends its master sniper, Major Koenig (Ed Harris) to the front line. This highly proficient and patient sharpshooter is the only soldier who may try to find and kill a Russian angel of death - an elusive sniper named Vassili Zaitsev (Jude Law). Zaitsev is a legend and icon for defenders of Stalingrad because he kills a record number of Nazi aggressors every day. The two extraordinary skilled snipers are locked in mortal combat of wills and marksmanship.
Tagline
- A battle between two nations became a conflict between two men.
A hero never chooses his destiny. His destiny chooses him.
- A single bullet can change history.
- Some Men Are Born To Be Heroes.
User Reviews of Enemy at the Gates
Movie Info
Year:

IMDB Rating:

7.3

IMDB Votes:

30850

Countries:

Genres:

Tags:

Explosion, Betrayal, Blood splatter, Death, Shot in the chest, Shot to death, Shot in the forehead, Double agent, Premarital sex, Sniper



Domestic:

$51,401,758 (53.0%)

+ Foreign:

$45,574,512 (47.0%)

= Worldwide:

$96,976,270

Opening
Weekend:

$13,810,266 (1,509 theaters, $9,151 average) % of Total Gross: 26.9%

Release:

1,724 theaters