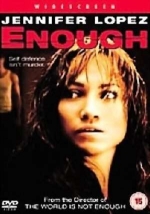 An abused woman (Lopez) discovers that the dream man (Campbell) she married isn't who she thought he was. She and her daughter try to escape (aided by her previous boyfriend, played by Futterman), but he pursues her relentlessly. Fearing also for the safety of her daughter, she decides that there's only one way out of the marriage: kill him. 'Fred Ward (I)' (qv) has a guest-starring role.
Tagline
- Everyone has a limit.
Self defense isn't murder.
Movie Info
Year:

IMDB Rating:

5

IMDB Votes:

8184

Countries:

Genres:

Tags:

Martial arts, Police impersonator, Police, Revenge, San francisco california, Cellular phone, Marriage, Infidelity, Jealousy, Escape



Domestic:

$40,007,742 (77.2%)

+ Foreign:

$11,793,445 (22.8%)

= Worldwide:

$51,801,187

Opening
Weekend:

$14,009,653 (2,623 theaters, $5,341 average) % of Total Gross: 35.0%

Release:

2,623 theaters