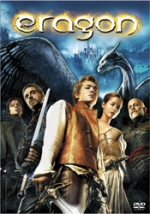 The fantasy-adventure movie revolves around an orphaned teenage farm boy named Eragon (Edward Speleers) whose life is changed forever when he finds an egg from which hatches a baby dragon, Saphira (Rachel Weisz). She communicates telepathically with Eragon, informing him of his being the last of a breed of once powerful and magnanimous Dragon Riders. Eragon also learns that the beautiful land of Alaga?sia is now ruled by the corrupt King Galbatorix (John Malkovich) and it
Tagline
- The rider has been chosen and the adventure has begun.
The Next Great Fantasy
As Darkness Falls, The Last Dragon Will Choose Its Rider.
- The next fantasy adventure begins.
The First Chapter of the Inheritance Trilogy
- You are stronger than you realize. Wiser than you know. What was once your life is now your legend.
When darkness falls, a hero will ride.
- One boy... One dragon... A world of adventure.
Movie Info
Year:

IMDB Rating:

5.1

IMDB Votes:

25310

Countries:

Genres:

Tags:

Character name in title, Based on novel, Demon, Battle, Epic, Heroism, Elf, Good versus evil, Magic, Sword



Domestic:

$75,030,163 (30.1%)

+ Foreign:

$174,457,951 (69.9%)

= Worldwide:

$249,488,114

Opening
Weekend:

$23,239,907 (3,020 theaters, $7,695 average) % of Total Gross: 31.0%

Release:

3,030 theaters