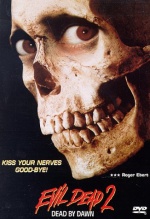 Ash - the sole survivor of the original 'Evil Dead' - returns with his girlfriend Linda to the remote cabin in the woods. He discovers a tape recorder that a professor had used to record incantations from the Necronomicon XMortis - the Book of the Dead. When he turns it on, the recording releases a dark, sinister force from the woods. It turns Linda into a zombie, her soul possessed by some hideous demon, and then tries to do the same to Ash. Other people come to help Ash, but one by one they are taken over by the Evil Dead force that also possesses Linda, the Professor, and the Professor's wife...and they try to make sure Ash is...Dead by Dawn!
Tagline
- "The Comedy/Horror of the Decayed" [Pun: "Decade"]
2 Terrifying. 2 Frightening. 2 Much!
- Kiss Your Nerves Good-Bye!
The Sequel To The Ultimate Experience In Grueling Terror
User Reviews of Evil Dead II
Movie Info
Year:

IMDB Rating:

7.7

IMDB Votes:

18441

Countries:

Genres:

Tags: