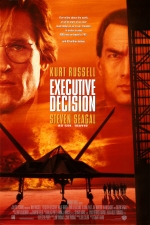 Some Arabs hijack an airliner and demand the release of their leader who is in American custody. They also intend to land in Washington for refueling. At the Pentagon, everyone there advises the National Security Advisor that they should let the plane land and then let the counter terrorist team of Colonel Austin Travis take them out. But David Grant, an intelligence expert believes that this whole thing is a smokescreen. Grant believes that the Arab leader was abducted by his second in command, who is a fanatic. And that he has in his possession a biological weapon that could wipe out Washington and that it's on the plane. Now they have only two choices let them land and hope Grant is wrong or shoot the plane down along with every one onboard. Then Colonel Travis suggests that they use this new plane that the military uses to transport men from onto another aircraft while in flight. With no other option Travis is given the go ahead. He then asks that Grant be allowed to!
Tagline
- Fasten your seat belts
Five miles above the earth, an elite team of six men must make an air to air transfer, in order to save 400 lives on board a 747... and 40 million below.
User Reviews of Executive Decision
Movie Info
Year:

IMDB Rating:

6.2

IMDB Votes:

12377

Countries:

Genres:

Tags:

Bomb, Twist in the end, Blood, Blood splatter, Death, Shot in the chest, Shot to death, Child in peril, Fall from height, Shot in the arm



Domestic:

$56,569,216 (46.4%)

+ Foreign:

$65,400,000 (53.6%)

= Worldwide:

$121,969,216

Opening
Weekend:

$12,069,780 (2,232 theaters, $5,407 average) % of Total Gross: 21.3%

Release:

2,289 theaters