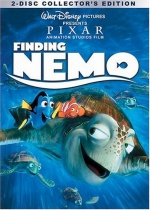 This is a tale of clownfish Marlin (Albert Brooks) and his son Nemo (Alexander Gould) who are separated from each other in the Great Barrier Reef. Marlin doesn
Tagline
- 71% of the Earth's surface is covered by water. That's a lot of space to find one fish.
Come Fly With Me.
- Fish are just like people, only flakier.
From the Creators of Monsters, Inc.
There are 3.7 trillion fish in the ocean*, they're looking for one.
You've never seen fish prepared like this.
User Reviews of Finding Nemo
Movie Info
Year:

IMDB Rating:

8.2

IMDB Votes:

76833

Countries:

Genres:

Tags:

Blockbuster, Character name in title, Explosion, Twist in the end, Faked death, Aquarium, Dolphin, Father son relationship, Flashback sequence, Friendship



Domestic:

$339,714,978 (39.3%)

+ Foreign:

$524,911,000 (60.7%)

= Worldwide:

$864,625,978

Opening
Weekend:

$70,251,710 (3,374 theaters, $20,821 average) % of Total Gross: 20.7%

Release:

3,425 theaters