Force 10 from Navarone
Movie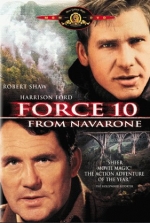 Based on a novel by Alistair MacLean, this thrilling war drama follows fearless Maj. Keith Mallory (Robert Shaw) and SSgt. Dusty Miller (Edward Fox) who are sent to the Balkans, Yugoslavia where they must team up with local partisans and the Force 10 squad, led by Lieutenant Colonel Mike Barnsby (Harrison Ford). Their perilous mission is to raid and blow up a huge bridge vital to German strategy. However, the team's plan goes wrong as there is a traitor among them...
Tagline
- Explosive high adventure! A mission more daring than silencing the "Guns".
The Odds Against Them Were 10,000 to 1...But What the Hell!
User Reviews of Force 10 from Navarone
Movie Info
Year:

IMDB Rating:

6

IMDB Votes:

3912

Countries:

Genres:

Tags: