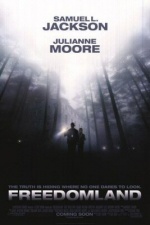 An adaptation of Richard Price's novel "Freedomland" portrays a single mother Brenda Martin (Julianne Moore) who thinks her son is dead after he is disappeared. She tells police detective Lorenzo Council (Samuel L. Jackson) a terrible story of being carjacked on the isolated strip of undeveloped land that divides two towns. She claims that her child was kidnapped by an African-American. This reveals the long-existing racial animosity between two towns...
Tagline
- His Streets. His Rules.
The Truth Is Hiding Where No One Dares To Look.
User Reviews of Freedomland
Movie Info
Year:

IMDB Rating:

5

IMDB Votes:

4501

Countries:

Genres:

Tags:

Prison, Police, Title spoken by character, Interracial relationship, Violence, Based on novel, Car jacking, Riot, Drugs, Interrogation



Domestic:

$12,512,886 (85.4%)

+ Foreign:

$2,142,742 (14.6%)

= Worldwide:

$14,655,628

Opening
Weekend:

$5,833,562 (2,361 theaters, $2,470 average) % of Total Gross: 46.6%

Release:

2,361 theaters