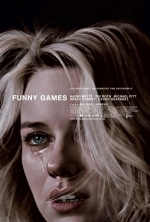 In this exploration of our violent society and how depictions of violence reflect and shape our culture, a middle-class housewife Anna tells the story of how she and her husband George and their 10-year-old son Georgie submitted both physically and mentally to the torture, violence, and death foisted upon them by two young, unexpected, white-gloved visitors at their weekend vacation retreat near a lake.
Tagline
- Let the games begin...
I bet they'll be dead by morning.
You Must Admit, You Brought This On Yourself
User Reviews of Funny Games U.S.
Movie Info
Year:

IMDB Rating:

6.8

IMDB Votes:

4190

Countries:

Genres:

Tags: