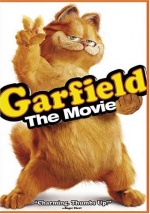 Garfield (computer animated character voiced by Bill Murray) is the everyone's favorite wisecracking, grouchy cat, who certainly finds out that the attention of his beloved family is began to divide between him and the dense, but lovable dog Odie. This state of affairs begins to disturb him, but when the dog is kidnapped by some lousy dog trainer, the world's laziest cat feels responsible to restore family's peace and gets into action to save Odie. This movie is of peculiar because some roles are played and some are computer animated.
Tagline
- coming to theatres 2004... whenever he wants
Get ready for frisky business
- Hits The Big Screen On June 11... Whenever He Wants
It ain't the Cat in the Hat.
Movie Info
Year:

IMDB Rating:

4.8

IMDB Votes:

13531

Countries:

Genres:

Tags:

Character name in title, Train, Veterinarian, Dancing, Dog, Fall from window, Television, Cat, Stylized, Animal shelter



Domestic:

$75,369,589 (37.6%)

+ Foreign:

$125,253,844 (62.4%)

= Worldwide:

$200,623,433

Opening
Weekend:

$21,727,611 (3,094 theaters, $7,022 average) % of Total Gross: 28.8%

Release:

3,150 theaters