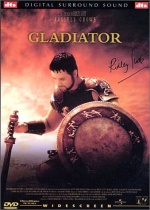 In ancient times, the Roman Empire had no commander more powerful than general Maximus (Russell Crowe). The invincible Legions of the Empire led by the noble warrior worshiped him reverently and could follow him even to the hell. But it happened that the courageous Maximus, determined to have a fair fight with enemy troops, turned out powerless against treacherous court intrigues. The general was betrayed and condemned to death. Having escaped an execution and been sold into slavery, Maximus was forced to train as a gladiator in the arena, where his fame grew. Once in the Coliseum, he was locked in mortal combat with his sworn enemy, Commodus (Joaquin Phoenix)...
Tagline
- A general who became a slave. A slave who became a gladiator. A gladiator who defied an emperor.
A Hero Will Rise.
- On my command - unleash hell
- The Gladiator Who Defied An Empire
What We Do In Life Echoes In Eternity.
User Reviews of Gladiator
Movie Info
Year:

IMDB Rating:

8.2

IMDB Votes:

147070

Countries:

Genres:

Tags:

Blockbuster, Martial arts, Murder, Political, Gambling, Betrayal, Blood splatter, Person on fire, Revenge, Shot in the chest



Domestic:

$187,705,427 (41.0%)

+ Foreign:

$269,935,000 (59.0%)

= Worldwide:

$457,640,427

Opening
Weekend:

$34,819,017 (2,938 theaters, $11,851 average) % of Total Gross: 18.5%

Release:

3,188 theaters