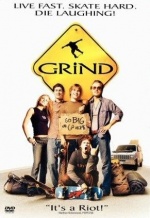 Eric Rivers (Mike Vogel) and his best friends Dustin Knight Adam Brody and Matt Jensen (Vince Vieluf) are enthusiastic about skateboarding. They dream of becoming professional skaters. To begin with, they have to show their demo tape to skateboarding legends such as Jimmy Wilson (Jason London) and Bam Margera (Bam Margera). Unfortunately, their attempt fails. Not losing hope to show their fierce tricks and get noticed by their skating hero, the dudes decide to travel cross-country to follow Jimmy on his summer tour. After recruiting laid-back ladies man Sweet Lou (Joey Kern) to join their crew and provide his minivan, team "Super Duper" sets out on an extraordinary adventure road trip.
Tagline
- Go Big Or Go Home
Live Fast...Play Hard...Die Laughing...
- This Summer the underdogs have their day.
Movie Info
Year:

IMDB Rating:

5

IMDB Votes:

2799

Countries:

Genres:

Tags:

Crude humor, Bloopers during credits, Vomit scene, Urination scene, Road trip, Skateboarding, Van, Brazil:14, Singapore:PG, USA:PG-13



Domestic:

$5,123,696 (99.7%)

+ Foreign:

$17,470 (0.3%)

= Worldwide:

$5,141,166

Opening
Weekend:

$2,511,403 (2,253 theaters, $1,114 average) % of Total Gross: 49.0%

Release:

2,253 theaters