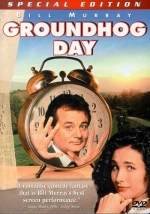 Bill Murray's hero, Phil Connors, is a weather man - he works at the silver screen telling weather reports to the audience. He is an egocentric man who suffers from megalomania, he thinks that soon he will be able to change this job for the better: to become a major TV star. At one moment Phil heads to a little town to make a report about a funny holiday named "Groundhog Day". Then it turns out to be that the Groundhog Day is the only number in the calendar of this small town - every morning is the beginning of February, 2nd. Phil understands that somehow he should leave this vicious circle...
Tagline
- He's having the day of his life...over and over again.
He's having the worst day of his life... over, and over...
User Reviews of Groundhog Day
Movie Info
Year:

IMDB Rating:

8.1

IMDB Votes:

81158

Countries:

Genres:

Tags: