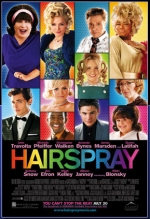 For teenager Tracy Turnblad (Nikki Blonsky), school is a real yawn. She somehow tolerates her boring classes just to race home to catch her favorite dance show on TV. Despite her overweight, Tracy is obsessed with her dream of someday appearing on "The Corny Collins Show." When the chance to partake in the show arrives, the aspiring dancer immediately takes the auditions. To her great joy, Tracy lands a spot on the show and quickly pursues stardom. However, she must overcome many obstacles she faces on her path.
Tagline
- You Can't Stop The Beat...July 2007
Get ready for something big July 20th!
- Who's who behind the do?
User Reviews of Hairspray
Movie Info
Year:

IMDB Rating:

7.9

IMDB Votes:

17497

Countries:

Genres:

Tags:

Remake, 1960s, Teen, Baltimore maryland, Mother daughter relationship, Dance, Interracial romance, Based on musical, Tony award source, USA:PG



Domestic:

$118,871,849 (58.7%)

+ Foreign:

$83,676,726 (41.3%)

= Worldwide:

$202,548,575

Opening
Weekend:

$27,476,745 (3,121 theaters, $8,803 average) % of Total Gross: 23.1%

Release:

3,121 theaters